Tuesday, April 5, 2011 at 10:40PM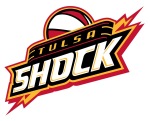 The Tulsa Shock are currently looking to hire a Director of Corporate Partnership Sales. Please click here for the full job description.
Position: Director of Corporate Partnership Sales, Tulsa Shock
Reports to: President/Chief Revenue Officer

Position Summary:
The manager of corporate partnership sales is responsible for generating corporate sales revenue through appointments and strong networking skills. This position will integrate tickets, signage, and activations through corporate marketing, promotions, digital advertising, hospitality, community programs and any other marketing resources in developing of these corporate marketing relationships.

Essential Duties and Responsibilities:
* Ability to set qualified appointments on a weekly basis
* Identifying corporate partnership leads
* Lead generation for prospecting
* Ability to generate new and creative sponsorship ideas
* Creation and development of comprehensive proposals
* Help develop long-term renewal strategy
* Responsible for weekly sales reports in a timely and accurate reporting structure
* Works closely with all staff members in relationship to corporate sales
* Achieve assigned sales goals
* Ability to close deals

Successful candidate must be:
* Passionate about success
* Ability to close
* Ability to set appointments on a weekly basis
* Bachelors degree
* Strong computer skills in excel and PowerPoint
* Strong communication and presentation skills
* Multi-tasking
* Must be able to work independently
* Ability to delegate
* Minimum 2-3 years sales experience, preferably in a sports/entertainment/media environment
* Evening and weekend hours required
Job Questions:
I have previous corporate sales experience?

In 100 words or less, tell us why we should consider you for this position?

Salary Requirements (please note this position is designed to be heavy commission and bonus based with a moderate salary).
Contact:
Steve Swetoha
sswetoha@tulsashock.net