Sunday, February 24, 2008 at 07:03PM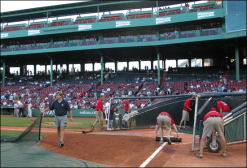 Are you looking to provide additional value to your corporate partners with minimal fixed costs?
The Boston Red Sox recently announced that they are offering groups the chance to take batting practive in the visiting team's batting cage at Fenway Park. In an effort to drive more year-round traffic to the ballpark, the Red Sox are charging groups $50-75 per person (min. 20 persons) for a private party and batting practice. The Red Sox are the first MLB to offer such an experience to fans. Read more by clicking the Sponsorship Ideas link above.