Saturday, October 31, 2009 at 12:05PM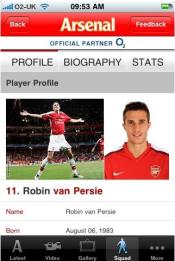 Are you looking for new ways to leverage technology to build your brand? Are you looking for new ways to capitalize on mobile technology?
Arsenal FC recently became one of the first sports organizations to release their own official iPhone application for fans to enjoy team coverage on a 24/7 basis. Arsenal's team app offers standard content (news, player profiles and statistics, images, match information) as well as video content (highlights, interviews, special features) that do not require special subscriber access. It also features links to the official team website, ticket purchasing information and club membership information.
The Arsenal app, created by 2ergo and being sold for nearly three (3) euros ($4.99 US) through the Apple App Store, was co-funded by O2, the team's official partner (who was given prominent branding near the top of the app's display screen in return). Sinc it's launch, the app has risen to the
The emergence of official team iPhone applications is an industry trend that all sports business personnel should be following because it represents a new revenue stream for organizations to capitalize on via purchase/subscription fees, corporate partnership branding opportunities, media extensions (leading to more impressions), and 24/7 fan access.
While the team acknowledges that its new iPhone application is just Stage 1, there are endless opportunities and developments that will soon be seen through this engagement medium. For more information, ArsenalMania.com recently featured a tremendous writeup on the functionality and features of the new Arsenal iPhone application.
Check out a video demonstration of the Arsenal iPhone app below: